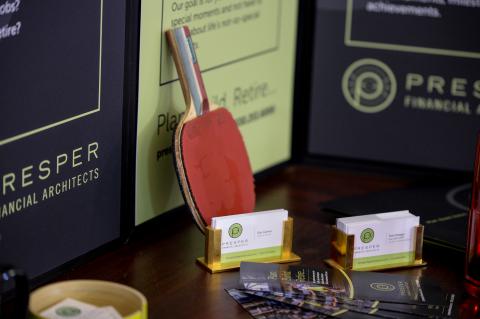 Date:
Feb 8, 2018 6:30pm
to
Feb 22, 2018 8:30pm
Presper Financial Architects is one of the main sponsors of the Samson Dubina Table Tennis Academy.  Feb 8, 15, 22 they will be holding a class called Passport to Retirement!  
Check it out:  
https://www.presperfinancial.com/passport-retirement
Passport to Retirement - Your How-To Guide for Retirement Success
This 3-session workshop is designed to help you steer clear of roadblocks, acquire sound information, focus on your goals, and take action.
WHEN
February 8th, 15th, 22nd
6:30 - 8:30pm
WHERE
Wadsworth High School
625 Broad St,
Wadsworth, OH 44281
GAIN THE KNOWLEDGE TO INDENTIFY AND OVERCOME RETIREMENT CHALLENGES
This course will cover...
Methods to help you accumulate and protect your retirement savings
How to develop a retirement income stream in retirement
Strategies that could enhance your social security benefits
What you need to know about retirement plan rolloversl, transfers, and distrobutions
Strategies to help protect wealth and pass it to your heirs and/or charitable causes
We will explore opportunities to help you…
Fight the effects of inflation, taxes, and procrastination
Understand your retirement plan distribution options
Explore potential nursing home care and related costs
Determine how much you will need to retire comfortably
Supplement your employer retirement plan
Avoid probate and estate taxes
Manage investment risk
Provide for your family and heirs
TUITION - $49
Advance registration and prepayment is required. You may pay with a check made payable to Presper Financial Architects LLC. Credit cards are not accepted. You may bring your spouse or one guest at no additional cost.
Tuition includes one workbook. The workbook consists of 135 pages that will serve as a valuable reference tool for years to come. It is filled with strategies, worksheets, and descriptions that will reinforce key concepts covered during class. Additional workbooks may be purchased for $25 each.
REGISTRATION
Registration can be completed via email or by calling Presper Financial Architects LLC.
Phone: (330) 253-6000
Email: tricia@presperfinancial.com
Location:
625 Broad St, Wadsworth, OH 44281