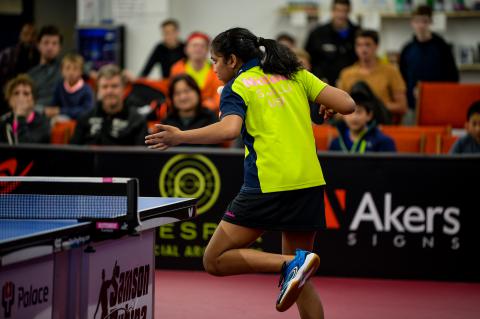 Date:
May 1, 2020 (All day)
to
May 2, 2020 (All day)
·        Excellent Venue  - Samson Dubina Table Tennis Academy, 2262 S. Arlington Road, Akron, OH  44319
·        FREE FOOD! – Saturday lunch and dinner will be provided FREE for all the players!    
·        Format – Giant round robin events with approximately 7 players per group with 4 advancing from each group. All matches are best 3 out of 5.
·        Experienced Tournament Staff – Greg Thompson, Blake Cottrell, Ron Arcaro, Mike Boyd, and Samson Dubina (certified referee #15112).
·        Professional Equipment – 800 Lux lighting, New Nittaku tables, Enlio rubberized flooring on all courts, white Nittaku Premium 3-star balls
·        Rules – All USATT regulations apply; only USATT approved equipment; USATT dress code will be enforced – no white shirts or shorts. Players cannot enter 2 events with the same starting time. 
·        Payments - Withdrawals through Saturday, April 25th will receive a refund. No refunds after April 25.  All payments must be received by midnight April 25.  Late entries may be accepted with late fee of $5 based on availability.  No phone entries.  Players earning $600 or more will be issued a Form 1099 and must provide required information.  GC is gift card to the SDTTA Pro Shop –can be used for tournaments, lessons, equipment, etc.
·        Ratings – Ratings from 04/1/20 will be used will be used for eligibility.  Updated ratings will be used for seeding purposes.  Tournament staff may modify, combine, cancel events, and limit total entrants. Unrated players may enter any event but cannot advance from rated events; they can advance from the Open and 3000 doubles and receive prizes.
·        USATT Memberships – USATT memberships are available according to USATT schedule below. 
·        Sponsors –  Nittaku, Presper Financial Architects, Newgy,, Paddle Palace, Wil-Cut Engineered Abrasive Solutions, Akers Signs, and Red Roof
 
Register – 3 ways to register…  3 ways to register…   3 ways to register…   3 ways to register… 
#1 Register by sending a paypal payment to tt@SamsonDubina.com
#2 Register by calling 330-949-9230 and paying with credit card over the phone to Samson Dubina.
#3 Register by going to www.omnipong.com, getting an account, and registering online.
#4 Register by printing the form off (see below) and mailing a check or dropping off a check at the Samson Dubina Table Tennis Academy 2262 South Arlington Rd Akron, Ohio 44319.
Location:
2262 south arlington rd akron, ohio 44319