TT-Serve® (New Product)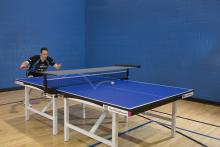 TT-Serve®
There are many aspects of perfecting your serve - this helpful tool will train you to serve low! The lightweight aluminum design has a retractable screen that can easily fold up in your table tennis bag. The setup time is 2 min with NO TOOLS REQUIRED so you can easily whip out TT-Serve® whenever you are ready to make progress on your serve! Designed by USATT Coach of the Year Samson Dubina and endorsed by Olympians Sean O'Neill and Cazuo Matsumoto!
FREE Domestic and International Shipping (limited time offer)
Some countries do charge a receiving fee.
100 Days of Table Tennis - New Book NOW Available!
Travel with Coach Samson Dubina on a 100-day table tennis journey. Each day, you will learn new skills about strokes, spins, drills, game tactics, training routines, and tournament performance. This book will give you the necessary tools to move past your competition both mentally and physically. 
Cost $19.99 
(Domestic shipping $3.00  /  International shipping $19.99)
 
 
TT-Flex Pro™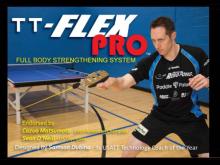 Players around the globe have been using TT-Flex™ for the past 2 years, making progress in their games. We are now happy to announce the new TT-Flex Pro™ featuring a slightly heavier construction, handcrafted wood handle, foam grip, and 5 elastic bands for even more of a "real feel" and more of a challenge! FREE Domestic and International Shipping (some countries do charge delivery charge).
Pages